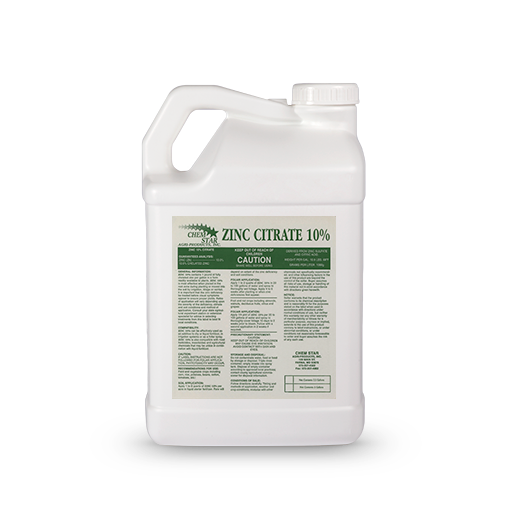 Zinc 10% Citrate
Zinc 10% Citrate is a micronutrient designed to aid crops with a zinc deficiency.
---
PRODUCT DETAILS
Product Category
Crop Usage
Description
ZINC 10% contains 1 pound of fully chelated zinc per gallon in a form readily available to plants. ZINC 10% is most effective when placed in the root zone during planting or moved into the soil by irrigation, tillage or rainfall. It is important that the zinc deficiency be treated before visual symptoms appear to ensure proper yields. Rates of application will vary depending upon the severity of the deficiency, climate and soil conditions and method of application. Consult your state agricultural experiment station or extension specialist for advice in selecting treatments from this label to best lit local conditions.
ZINC 10% can be effectively used as an additive to dry or liquid fertilizer, in irrigation systems or as a foliar spray. ZINC 10% is also compatible with most herbicides, insecticides and agricultural chemicals that may be utilize in combi­nation with liquid fertilizer.
Directions for Use
Field and vegetable crops including corn, rice, potatoes, beans, cotton, tomatoes, etc.:
SHAKE WELL BEFORE USING
depend on extent of the zinc deficiency and soil conditions.
FOLIAR APPLICATION:
Apply 1 to 2 quarts of ZINC 10% in 20 to 100 gallons of water and spray to thoroughly wet foliage. Apply 4 to 6 weeks after planting or when zinc deficiencies first appear.
Fruit and nut crops including almonds, walnuts, deciduous fruits, citrus and grapes:
FOLIAR APPLICATION:
Apply 1/4 pint of ZINC 10% per 20 to 100 gallons of water and spray to thoroughly cover foliage 1 O days to 2 weeks prior to bloom. Follow with a second application in 2 weeks is required
Storage and Disposal
Do not contaminate water, food or feed by storage or disposal. Triple rinse container; empty rinsate into spray tank. Dispose of empty container according to approved local practices; contact county agricultural commissioner for disposal information.
Caution
KEEP OUT OF REACH OF CHILDREN  MAY CAUSE EYE IRRITATION. AVOID CONTACT WITH SKIN AND EYES. IF LABEL INSTRUCTIONS ARE NOT FOLLOWED FOR FOLIAR APPLICA­TION, PHYTOTOXICITY MAY OCCUR.
Notice
Follow directions carefully. Timing and methods of application,  weather and crop conditions, mixtures with other chemicals not specifically recommended, and other influencing factors in the use of this product are beyond the control of the seller. Buyer assumes all risks of use, storage or handling of this material not in strict accordance with directions given herewith.
Warranty
Seller warrants that the product conforms to its chemical description and is reasonably fit for the purposes stated on the label when used in accordance with directions under normal conditions of use, but neither this warranty nor any other warranty of merchantability or fitness for a particular purpose, express or implied, extends to the use of this product contrary to label instructions, or under abnormal conditions, or under conditions not reasonably foreseeable to seller and buyer assumes the risk of any such use.