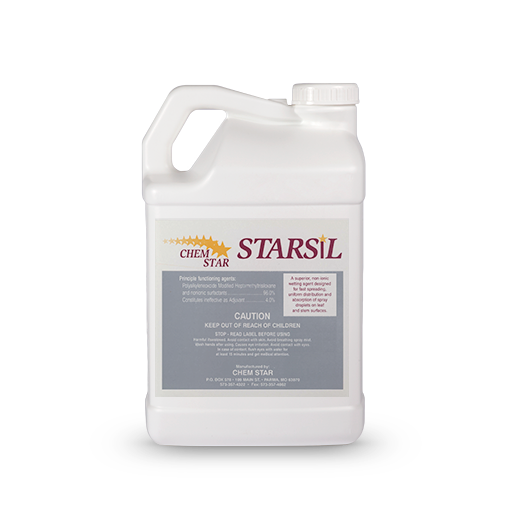 ---
PRODUCT DETAILS
Product Category
Crop Usage
Description
A superior, non-ionic wetting agent designed for fast spreading, uniform distribution and absorption of spray droplets on leaf and stem surfaces.
Directions for Use
Starsil , when applied with pesticides and fertilizers and micronutrients will be effective on alfalfa, corn, cotton, oats. peanuts, rice, sorghum, soybeans, sugarcane, wheat, lawns, turf, greens and tees, and deep feeding trees. For optimum results;
Ground: Use 12 ounces to 64 ounces per 100 gallons of spray/
Aerial: Use 12 ounces to 32 ounces per 100 gallons of spray
General Welter/Spreader: Use 6 ounces to 12 32 ounces per 100 gallons of spray
Note: When applying aerially, follow pesticide label directions including minimum water volume per acre. Do no substitute Starsil for water required by the pesticide label.
Starsil is also recommended for use with non-selective herbicides and other pesticides inducing those used to desiccate or defoliate.
The rate guidelines are for use with pesticides whose labels recommend the use of a nonionic surfactant. For best efficiency, increased or decreased surfactant rates may be required for some pesticides. Follow directions on pesticides label when this occurs. Applications of Starsil through, irrigation injection systems are possible provided that the recommended use rates and dilutions are maintained and local, state and federal guidelines are followed. Before adding Starsil to spray tank mixes or before using wittl a pesticide or fertilizer where a nonionic adjuvant is not specifically recommended but M prohibited by the manufacturer, the user or application advisor must have experience with the combination or must have conducted a phtotoxicity trial of their own.
For most efficient water penetration of hard to wet soils and the even distribution of applied moisture follow recommended uses:
Lawns & Turf --- .05% - .125% v/v concentration

Greens & Tees --- .05% - .125% v/v concentration

Deep Feeding Trees --- .10% - .20% v/v concentration
Mixing: Splay mixing and application equipment must be cleaned according to deaning directions on p1ior pesticide label before application. To minimize and help prevent foaming, fill tank 2/3 to 3/4 full of water. Add pesticides and/or fertilizers as directed by label or in the following sequence:
1) Micronutrients and fertilizers
2) Dry flowables and dispersible granules
3) Flowables
4) Water­-soluble pesticides
5) Emulsifiable concentrates.
While agitating, add Starsil and mix for 1 to 2 minutes with lower than normal agitation. Continue filling tank maintaining minimal agitation. For most effective results, apply wittlin 36 hours after mixing.
Aquatic Application: Apply al rate recommended as described by pesticide label
Storage and Disposal
Caution
STOP READ LABEL BEFORE USING. KEEP OUT OF REACH OF CHILDREN
Harmful if swallowed. Avoid contact with skin. Avoid breathing spray mist. Wash hands after using. Causes eye irritation. Avoid contact with eyes. In case of contact, flush eyes with water for at least 15 minutes and get medical attention.
FIRST AID:
If swallowed, do not induce vomiting.
Call a physician at once.
Dispose of container in accordance with local, state and federal regulations. Do not store near food 01 feed 01 near heat or open flame. Store in a dry location.
Notice
Warranty
Seller warrants that the product conforms to its chemical description and is reasonably fit for the purposes stated on the label when used in accordance with directions under normal conditions of use, but neither this warranty nor any other warranty of merchantability or fitness for a particular purpose, express or implied, extends to the use of this product contrary to label instructions, or under abnormal conditions, or under conditions not reasonably foreseeable to seller and buyer assumes the risk of arr; such use.