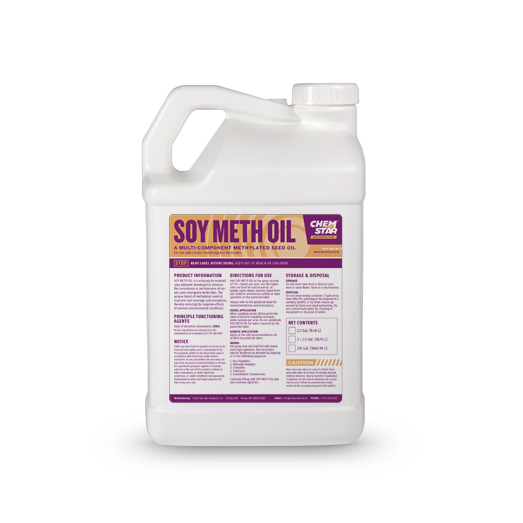 ---
PRODUCT DETAILS
Product Category
Crop Usage
Description
This unique blend of methylated seed oil improves leaf coverage and absorption, thereby reducing the negative effects of adverse environmental conditions.
Directions For Use
Add SOY METH OIL to the spray mixture of 1 1/2 - 2 pints per acre. Use the higher ratio on hard-to-control weeds or weeds under stress. Include liquid fertilizer (UAN) or ammonium sulfate at rates specified on the pesticide label. Always refer to the pesticide label for recommendations and precautions. AERIAL APPLICATION: When applying aerial, follow pesticide label directions including minimum water volume per acre. Do not substitute SOY METH OIL for water required by the pesticide label. AQUATIC APPLICATION: Apply at the rate recommended as described by pesticide label. MIXING: Fill spray tank one-half full with water and begin agitation. Add pesticides and/or fertilizers as directed by labeling or in the following sequence. 1. Dry flowables 2. Wettable powders 3. Flowables 4. Solutions 5. Emulsifiable concentrates Continue filling. Add SOY METH OIL last and continue agitation.
Storage and Disposal
Do not store near food or feed or near heat or open flame. Store in a dry location. DISPOSAL Do not reuse empty container. Triple rinse, then offer for recycling or for disposal in a sanitary landfill, or by other means approved by State and Local authorities. Do not contaminate water by cleaning of equipment or disposal of waste.
Caution
May cause eye injury in case of contact flush eyes with water for at least 15 minutes and get medical attention. May be harmful if swallowed. If ingested do not induce vomiting. Call a physician at once. Follow all precautionary statements on the accompanying pesticide label(s).
Notice
Warranty
Seller warrants that the product conforms to its chemical description and is reasonable fit for the purposes stated on the label when used in accordance with directions under normal conditions of use, but neither this warranty nor any other warranty of merchantability or fitness for a particular purpose, express or implied, extends to the use of this product contrary to label instructions, or under abnormal conditions, or under conditions not reasonably foreseeable to seller and buyer assumes the risk of any such use.