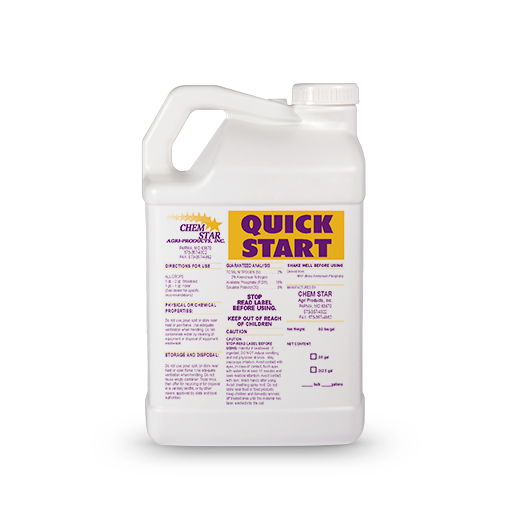 Quick Start 2-10-0 – Nitrogen Phosphate
A nitrogen and phosphorous based foliar fertilizer.
For use on all crops.
---
PRODUCT DETAILS
Crop Usage
Description
Directions For Use
SHAKE WELL BEFORE USING. 1 qt. - 2 qt. Broadcast 1 pt. - 1 qt. Foliar (See dealer for specific recommendations)
Storage and Disposal
Do not use, pour, spill, or store near heat or open flame. Use adequate ventilation when handling. Do not reuse empty container. Triple rinse, then offer for recycling or for disposal in a sanitary landfill, or by other means approved by state and local authorities Do not store near food or food products.
Caution
READ LABEL BEFORE USING. KEEP OUT OF REACH OF CHILDREN CAUTION STOP-READ LABEL BEFORE USING. Harmful if swallowed. If ingested, DO NOT induce vomiting and call physician at once. May cause eye irritation. Avoid contact with eyes, In case of contact, flush eyes with water for at least 15 minutes and seek medical attention. Avoid contact with skin. Wash hands after using. Avoid breathing spray mist. Keep children and domestic animals off treated area until this material has been washed into the soil. Do not contaminate water through cleaning of equipment or disposal of equipment washwater.
Notice
Warranty
Product Tag
Nutrients
Micronutrients
Foliar Fertilizer