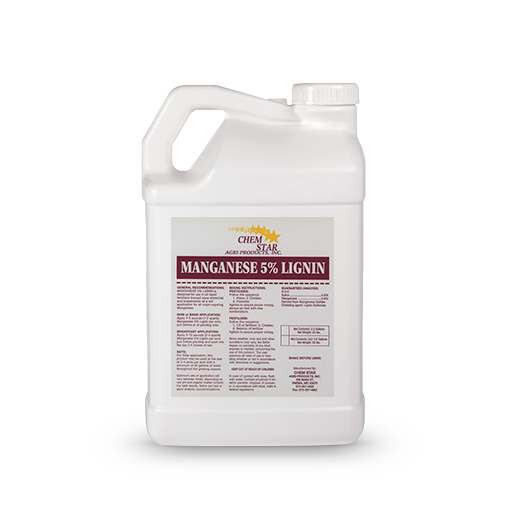 Manganese 5% Lignin
Manganese Supplement
Manganese 5% Lignin is a micro nutrient for use in most liquid fertilizers and suspensions for crops that require manganese.
---
PRODUCT DETAILS
Manganese 5% Lignin is designed for use in all liquid fertilizers (except aqua ammonia) and suspensions as a soil application for all crops requiring manganese.
Directions for Use
Row or Band Application: Apply 2-5 pounds (1-2 quarts) Manganese 5% Lignin per acre, just before or at planting time.
Broadcast Application: Apply 5-10 pounds (2-4 quarts) Manganese 5% Lignin per acre just before planting and work into the top 3-5 inches of soil.
Agitate to assure proper mixing.
Mixing Instructions
Pesticides:
Follow this sequence
Water

Chelate

Pesticide
Always jar test with new combinations.
Fertilizers:
Follow this sequence
1/3 of fertilizer

Chelate

Balance of fertilizer
Always jar test with new combinations.
Storage and Disposal
Dispose of container in accordance with local, state & federal regulations.
Caution
KEEP OUT OF REACH OF CHILDREN.  In case of contact with eyes, flush with water. Contact physician if irritation persists.
Notice
For foliar application, this product may be used at the rate of 2-4 pints per acre with a minimum of 20 gallons of water throughout the growing season.
Optimum rate of application will vary between fields, depending on soil pH and organic matter content. For best results, follow soil test or plant analysis recommendations.
Warranty
Since weather, crop soil and other conditions may vary, the Seller makes no warranty of any kind, express or implied, concerning the use of this product. The user assumes all risks of use or handling whether or not in accordance with directions or suggestions.
Product Tags
Nutrients
Micro Nutrients
Ingredient Tags